Alanis Morissette
Fan Appreciation Site
http://alanisdg.tripod.com

Do you have an Alanis Morissette site ?
Send me an email with the URL of your website to apply for my "Diamond" Alanis Morissette Site Award.

Make sure you specify which award you are applying for

You will have your choice of these 4 award buttons.... and more just like them !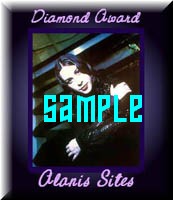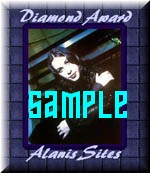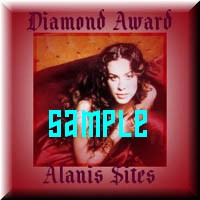 I will visit your website, and if its a great site...I will send you the award button.
All I ask is that you link your award to
http://alanisdg.tripod.com
or to
http://www.donnagrayson.com
Winners will have a link to their site on my site.
If you have a site that is on a different topic, I also have a "Diamond Best Sites On the Web" Award for all other types of sites. To learn more, go to The Award Page on my main site.
Good luck with your Award Entry !

Listen to Donna's music, View my other Fan Pages,
Download my Backgrounds, and Windows Wallpapers
Go to my Main Page.